Tikkun Kehilah is repairing the congregational community. Please contact the office if you learn of any of our members who have fallen ill, become home-bound, or are experiencing any other serious life setbacks. We will make sure that the appropriate pastoral care is provided. Call the office (505) 266-0155.
Visiting the sick, Bikkur Holim, is an act of caring that we are obliged to perform, to help alleviate a person's suffering. There are special rules and considerations for visiting the sick. Additionally, there are special prayers, like the Misheberakh, said during the weekly reading of the Torah, that are meant to aid in a person's recovery.
Our Rabbi, along with a dedicated cadre of our members in the Chevrah Chesed Committee (member-to-member care), will visit congregants who are ailing, sitting Shiva, or requiring special attention. If you wish to join Chevrah Chesed, please contact the office at 505-266-0155 to learn more.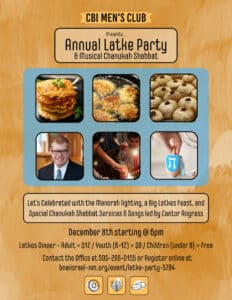 Chanukah is a joyful occasion for families and friends to gather together and celebrate the victory of light over darkness The holiday is celebrated with a big feast, special Chanukah…