We are a community and getting involved at Congregation B'nai Israel is very easy. We encourage it! You can join any one of our numerous "troops:" the auxiliaries, special-interest groups, and committees that welcome your energy and involvement.
If you are seeking synagogue group activities that don't exist yet, we encourage your leadership initiative.
Call us at 505-266-0155 for information on volunteering, Men's Club, Sisterhood or if you have a great activity idea.
A latka fund drive—sounds silly, doesn't it? Chanukah is special. It is one of holidays that draws not only the active Jewish population, but also the unaffiliated Jew and the…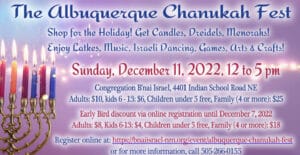 Free – $25.00
173 tickets left
Join us for the first potato latkes of the season with sour cream, of course. Freshly made sufganyiot. Shop for candles, dreidels and menorahs. Israeli dancing, Arts and Crafts, Games—and…
View recorded services, learn, communicate and much more!